1905 (VFA) - 1920 - 1921 - 1932 - 1934 - 1943 - 1967 - 1969 - 1973 - 1974 - 1980
"Courageous Richmond, well hast thou acquit thee!"
William Shakespeare.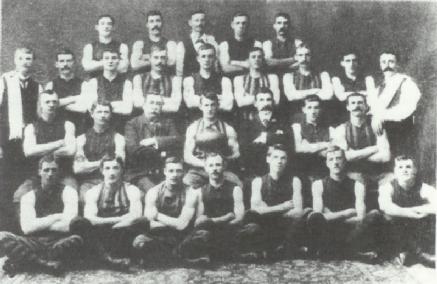 THE FOOTBALL SEASON
Match For Premiership
The Age, Monday 1st September 1902.

By Follower.
The Association club's season came to a termination unexpectedly on Saturday. It was generally considered almost certain that Richmond and Port Melbourne would win their respective games with Prahran and Williamstown. Richmond beat Prahran, but, to the great surprise of all followers of Association football, Williamstown beat Port Melbourne by 45 points to 27, and Richmond, having won 15 matches and only lost 1, secured the Association premiership. Naturally, there was great rejoicing in Richmond on the club's victory, and there is no doubt that one effect of it will be to materially increase the success of a bazaar in aid of the club's funds which was opened at the local town hall on Saturday night, and will be continued during the present week.
The Richmond football club has been in existence for about 20 years, and this is the first season in which its representatives have succeeded in winning premiership honors, though they were runners up last year to Port Melbourne, with whom they now reverse positions. This season their only defeat was inflicted by Port Melbourne, whom they had previously beaten much more decisively, and they defeated each of the other seven Association clubs twice. They have kicked 103 goals, and have had only 44 scored against them, and it is intended to hold a meeting this evening to decide whether Richmond shall invite Port Melbourne to play a match for the benefit of charities; but the premiership having been decided, I doubt whether such a match would arouse much interest. The team's splendid record speaks eloquently respecting the form shown by the players, and much of the credit of it is due to the excellent manner in which the training has been attended to by McCormack, Whittaker and Watson, whose indefatigable and successful efforts deserve and will doubtless receive special recognition. The Richmond club has now a members' roll of 800, and its advancement and success have been very distinctly brought about by the energy and enthusiasm of the honorary secretary, Mr. George Beachcroft, assisted by a zealous committee, with Mr. George Bennett, M.L.A., at its head as president. A fitting tribute to the prowess of the team may be applied in the Shakespearian sentence - "Courageous Richmond, well hast thou acquit thee!"
PREMIERSHIP LIST, SEASON 1902
(Up and including Saturday, 30th August.)
Association Clubs
| Clubs &nbsp | Pld | W | L | D | Pts | % |
| --- | --- | --- | --- | --- | --- | --- |
| Richmond | 16 | 15 &nbsp | 1 | - | 60 | 93 |
| Port Melb. | 16 | 14 | 2 | - | 56 | 87 |
| North Melb. | 16 | 10 | 5 | 1 | 42 | 65 |
| Williamstown | 16 | 8 | 8 | - | 32 | 50 |
| Footscray | 16 | 7 | 9 | - | 28 | 43 |
| Essendon Town &nbsp | 16 | 5 | 10 | 1 | 22 | 34 |
| Prahran | 16 | 5 | 11 | - | 20 | 31 |
| West Melb. | 16 | 5 | 11 | - | 20 | 31 |
| Brunswick | 16 | 2 | 14 &nbsp | - | 8 | 12 |
< RETURN TO TOP >
1905 (VFA) - 1920 - 1921 - 1932 - 1934 - 1943 - 1967 - 1969 - 1973 - 1974 - 1980