1902 (VFA) - 1905 (VFA) - 1920 - 1921 - 1932 - 1934 - 1943 - 1967 - 1973 - 1974 - 1980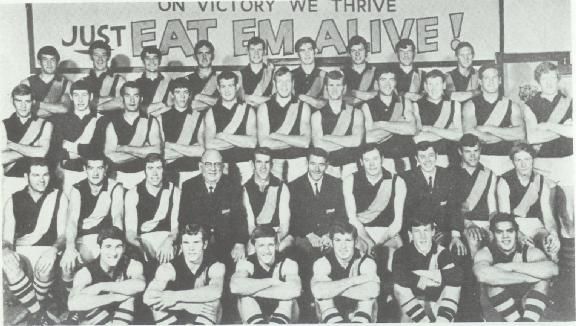 THE TIGER INVASION
WOW! THE TIGERS WERE GREAT
Monday, September 29, 1969, The Sun News-Pictorial

By Peter Hudson, with Scot Palmer
That record - shattering MCG crowd of almost 120,000 must have been as amazed as I was.
It was Carlton that looked as if it had been through the mill to get into Saturday's Grand Final.
It was the supposedly fresh-as-a-daisy Blues who looked slow, who tired and then wilted under pressure.
RICHMOND, WOW! It just went on from where it left off against Geelong and Collingwood to score what must be one of the greatest premiership wins in League history.
In Right Tune ...
The five tough games it took to get there actually did what coach Tom Hafey said ... they primed the Tigers right up for the task.
I thought Richmond was gone twice during the game. The first time was when that amazing man Mike Green started limping late in the second quarter.
I thought then: "If he goes off, that's it."
The next was in the third quarter, when Carlton finally found a way to goal and with one rapid burst of firing found itself in front.
Richmond momentarily looked rattled. It was four points down at three-quarter time, was being beaten across the centre where Bryan Quirk and Garry Crane were starring and Royce Hart was also covered.
Yet Richmond players obviously knew this flag was earmarked for them. From the first bounce of the last quarter they were back in business and again looking the winner.
If they needed a lift they got one from Billy Barrot, who lived up to his nickname of "Billy the kid."
Billy tangled with tall Peter Jones, took that showy mark in front of the members, then kicked the goal that really put the Blues under the hammer.
The Blues lost their composure and their forwards who, besides being starved for chances most of the day, had failed to improvise with the ones they did receive, were in more trouble.
If possible, Richmond defenders Kevin Sheedy, Barry Richardson, Colin Beard, Geoff Strang, Graeme Burgin and Ian Owen further tightened their grip on the game.
For most of the first half the match had been a battle of the defences, and both had done well.
Proving us wrong for the third time in this series, it was Richmond that got the breaks from the rucks where Green was magnificent.
I know I keep on mentioning this fellow, but the Tigers certainly owe him a lot in its premiership bid. He has taken on the best three ruck combinations in the League, and beaten them.
A lot of the Carlton players didn't really want the ball and this allowed the likes of rover Kevin Bartlett and half-forwards Roger Dean and John Northey to show up with their pace.
At centre half-back, however, John Goold played a fine game on Hart, who, although he did some fine things, was nowhere near as effective as Richmond thought he would be.
No Big Guns ...
Too many of the other Carlton big guns were missing.
If it hadn't been for Quirk on the wing, the Blues would not have had a worthwhile attacker in its forward division.
Any doubts I had about the fitness of full-back Richardson were soon answered. Admittedly, the brilliant Carlton full-forward Alex Jesaulenko did not get much help from the players upfield, but Richardson was with him every inch of the way.
Every move coach Ron Barassi made looked to be right, but they did not have any effect in the game.
Hafey didn't have to make near as many, but they all clicked. The posting of Barrot in front of goals certainly had its repercussions and meant a big part in winning the premiership.
Above: Ian Robertson, of Carlton, crashed into Bill Barrot, the Richmond centreman, and this started another flare-up of tempers. Barrot sat on the ground with three Carlton players standing over him and a boundary umpire, almost hidden, telling players to cool off. In the centre, Moore is helped to his feet.

Right: At one stage all the umpires and some trainers were trying to soothe ruffled tempers. With Moore fully recovered and prepared to take his kick, Umpire Crouch gave him a 15 yd. penalty which put the mark right on the goal line. Moore had no difficulty in kicking his second goal and putting the Tigers only four points behind.
FINALLY THE SMILE
Tom Hafey with Kevin Hogan.
"Sure I worried a lot during the game," Richmond coach Tom Hafey said after Saturday's League Grand Final.
"It was such a torrid game and the scoring was low so I didn't know what might happen next.
"It was worse when all of a sudden Carlton kicked six goals.
"I was worried about Carlton's strength and I went through agonies if one of our players made a mistake that might let them in for another goal.
"It seemed ages while I was waiting for some of our best players like Royce Hart, Francis Bourke and Dick Clay to really get going.
"They didn't really get into their normal games at any time but they kept on fighting and towards the end they became important players and helped a lot in our win.
"There was plenty to worry about when our best ruckman, Michael Green, was limping and when he came in at half-time and didn't know the scores or what quarter of the game it was.
"About the only thing I didn't worry about was switching my defenders to follow their opponents when the Carlton forwards began to shift positions.
"Our backmen were all playing so well that it didn't seem to matter who they picked up.
"I was a bit happier near the end and it was a wonderful feeling when it was all over and we had won."
THAT TIGER SPIRIT IS BURNING BRIGHT
by Kevin Hogan
Richmond can look forward to more premierships if the spirit of the players who vanquished Carlton keeps burning as strongly as it did on Saturday.
The 1969 premiership win was a triumph of courage and confidence as much as football ability.
And one of the fruits of success is likely to be the welding of the players and coach Tom Hafey into a closely knit unit ready to fight together for more victories.
Yesterday, Hafey padi tribute to the players for the way they had rallied around him when his coaching was under firein the middle of the season.
"Any coach is fairly close to his players, but I think I can say that I now have some very close friends among the boys who played on Saturday," he said.
Hafey and the other team leaders at Richmond need have no fears about any immediate decline in football prowess of the side.
All the men who did most towards landing this year's flag are comparative youngsters.
Only man over 25 who starred in the finals was the captain, Roger Dean, 29.
Tough, dedicated ...
And Dean is tough and dedicated enough to play two more years.
Along the line of key positions were Barry Richardson, 23, Graham Burgin, 21, Bill Barrot, 25, Royce Hart, 21, and Eric Moore, 21.
The first ruck of Michael Green, 21, Mike Bowden, 22, and Kevin Bartlett, 22, would be the youngest top following combination in the League.
Carlton went into Saturday's deciding game with John Nicholls, 30, and Sergio Silvagni, 31, as main ruckman, and Wesley Lofts, 26, and John Goold, 28, in key defence positions.
The Blues knew it would be Silvagni's last game, and it is expected that Goold will drop out before next season.
Two young defenders, Richardson and Ian Owen, provided an example of the strength of the Tigers' spirit before the game began.
Richardson had a "dicky" knee, about which Hafey was badly worried.
Owen had a fractured cheekbone, suffered in the preliminary final, about which secrecy was observed by the whole Richmond camp.
Richardson and Owen knew they had to take the chance of being badly hurt again on Saturday.
But they were ready to play, and Hafey and his fellow selectors had the confidence to pick them and pit them against Carlton's most dangerous forwards.
The almost complete eclipse of Alex Jesaulenko by Richardson and the smothering of Brent Crosswell by Owen were Carlton's biggest disappointments.
Carlton coach Ron Barassi tried a move which upset the Collingwood defence in the second semi-final by ordering Jesaulenko and Crosswell to swap places.
Wisely, Hafey did not tinker with a defence that was blunting all the normal sharpness from the Carlton attack.
When Jesaulenko went to centre half-forward Burgin kept him out of the game and Owen was still in control on his half-back flank when tall Robert Walls was switched there.
Green also gave evidence that he has plenty of the determination that marked the play of every Richmond player.
Limping, and so badly dazed by knocks on a knee and the head that he still can't remember playing in the second quarter, he continued going for marks and hitouts.
And even if Green couldn't hit the ball directly to him, little rover Bartlett plunged in and got it so often that Carlton's ruck power disintegrated almost as badly as its attack.
| | | |
| --- | --- | --- |
| | &nbsp &nbsp &nbsp | |
IT WAS SWEETEST WIN OF THEM ALL
by Lou Richards, with Tom Prior
Hooray for Tom Hafey and his magnificent Tigers!
You can;t go wrong picking the Tigers to win in the finals. They haven't lost a finals match since they moved to the MCG - and Tommy now has seven wins in nine starts against Barassi's Blues.
But Saturday's win was the sweetest of them all.
Carlton, the overwhelming favourite, hit Richmond with everything.
Mike Green, Kevin Bartlett, Royce Hart, Eric Moore and Tiger captain Roger Dean went down as though they'd never get up. But they did.
In a brilliant third quarter, the Blues slammed on six goals to take the lead and it looked all over. But it wasn't.
The Tigers were too fit, too fast and they had too many good players. Hold one, even beat one, and another would pop up somewhere else.
The Tigers wanted to win too much. They didn't have a man who didn't play his heart out.
Carlton did ... The Blues lost for three of the four quarters and didn't deserve to win.
Responsible for Win
The way I saw it three men were mainly responsible for Richmond's premiership: Hafey, Billy Barrot and Green.

Canned everywhere and looking like losing his coaching job a couple of months ago, Hafey just kept plugging away.

He never lost confidence in his players and his confidence - and courage - was catching.

Barrot is, well, Billy Barrot. That's about the only way you can say it.

He's a grand-stander, a show-off and about as reliable as a politician's pre-election promise.

But, oh boy, can he play football! You can place him anywhere bar the ticket-box and he'll still get kicks.

And when he goes, he makes rovers run faster, rucks stand taller and forwards fly higher than a F-111.

Barrot wasn't the best man on the ground on Saturday, but he was easily the most effective and inspiring - and irritating to Carlton.

He put Carlton full-back Wes Lofts right off his game with those mysterious finger gestures in the second quarter.

And, he gave big Peter Jones the back of his hand in really spectacular fashion.

Mike Green did the job for Richmond that he had to do - and only he could do.

Michael Green
Came Back for More
He stood up to what seemed overwhelming Carlton ruck strength and came back for more. He outmarked John Nicholls and more than broke even in the hit-outs.
The Blue big men did a fair job but they never looked like taking over and when Mike Bowden and John Ronaldson warmed up for Richmond it was all over bar the shouting.
At this stage I think I should say I know for a fact Nicholls was carrying a serious stomach injury all last week.
He had badly torn muscles.
Bick Nick did his best for his team and more than earned his place, but by the last quarter he had nothing left.
Carlton's hero was undoubtedly winger Brian Quirk who surprised everyone - Francis Bourke and Dick Clay most of all - by being far and away best man on the ground.
Quirk marked all over the Richmond cracks, outpaced and out-thought them and kicked beautifully all day.
Carlton's other hero was the oldest man on the ground (including the goal umpires) good old Sergio Silvagni.
Serge must rate as the best thing to come out of Italy since Sophia Loren and spaghetti bolognaise.
In the first quarter on Saturday, he was a one man, defence department, in the third he even pulled up his socks to have a shot no goal.
If he cops a suspension for that bit of by-play with Richmond's Ian Owen (the first time Serge has been reported in 200 games) the game's not fair.
Speaking of Owen, a steady improver and now really worthwhile half-back flanker, since he came to the Tiger defence.
To a man, the Tiger backs, Sheedy, Barry Richardson, Colin Beard, Geoff Strang, Graham Burgin and Owen, played good, constructive games.
For three quarters, they put the Big Bad Carlton attack right out of business.
Alex Jesaulenko, Brent Crosswell and Syd Jackson came under notice mainly for the number of times they were beaten.
And, the Tiger backs didn't panic in Carlton's frightening third quarter burst.
They stuck to their jobs and came out on top - typical Tigers 1969.
1969 GRAND FINAL SCORES AND STATISTICS
Attendance: 119,165 (then record for a Grand Final).
Umpire J. Crouch
1969 Richmond Premiership Side

       B:  K. Sheedy           B. Richardson         C. Beard
       HB: G. Strang           G. Burgin             I. Owen
       C:  F. Bourke           W. Barrot             R. Clay
       HF: R. Dean             R. Hart               J. Northey 
       F:  J. Ronaldson        E. Moore              W. Brown
       R:  M. Green            M. Bowden             K. Bartlett 
       I:  G. Bond             R. Hunt
       
Quarter Scores
| | | | | |
| --- | --- | --- | --- | --- |
| Richmond | 2.2 | 6.5 | 8.6 | 12.13-85 |
| Carlton | 1.4 | 2.7 | 8.10 | 8.12-60 |
Goals
Richmond: Barrot 3, Moore 2, Northey 2, Hart, Dean, Ronaldson, Bond, Bartlett
Carlton: Nicholls 2, Jackson 2, Walls, Gallagher, Crosswell, Jesaulenko
Best
Richmond: Sheedy, Barrot, Bartlett, Dean, Green, Richardson
Carlton: Quirk, Crane, Goold, Nicholls, Silvagni, Jones.
Replacements
Richmond: Moore by Bond, in last quarter; Bowden by Hunt, in last quarter.
Carlton: Nicholls by Hopkins, in last quarter; Robertson by Collins, in last quarter.
Reports
S. Silvagni (Carlton) reported by goal umpire Cole on a charge of having struck I. Owen (Richmond) during the last quarter.
Stats
K
I
C
K
S
HB
M
FF
FA
G
B
1
2
3
4
T
K.Sheedy
3
4
4
5
16
-
8
5
5
B.Richardson &nbsp
5
2
1
3
11
-
5
2
-
C.Beard
3
3
1
1
8
1
3
2
-
G.Strang
3
2
4
4
13
1
6
-
1
G.Burgin
5
2
2
3
12
-
2
-
3
I.Owen
3
3
2
0
8
-
3
3
2
F.Bourke
3
0
3
7
13
4
3
4
3
W.Barrot
4
7
2
4
17
1
9
3
3
3
3
D.Clay
2
5
4
7
18
-
6
1
4
1
R.Dean (c)
2
4
6
1
13
2
3
3
3
1
R.Hart
6
2
3
3
14
3
5
3
1
1
1
J.Northey
4
2
4
5
15
1
2
5
3
2
3
J.Ronaldson
5
1
1
2
9
4
4
3
2
1
1
E.Moore
1
3
2
1
7
-
2
- 1
2
W.Brown
2
4
2
5
13
1
5
2
3
1
M.Green
5
4
2
5
16
4
12
5
3
1
M.Bowden
1
2
3
5
11
11
5
1
3
1
K.Bartlett
6
6
4
10
26
-
4
4
3
1
R.Hunt
-
-
-
-
-
-
-
-
-
G.Bond
-
-
-
1
1
-
1
-
-
1
Richmond
63
56
50
72
241
33
88
46
43
12
13
Carlton
60
52
80
43
235
44
79
43
46
8
12
< RETURN TO TOP >
1902 (VFA) - 1905 (VFA) - 1920 - 1921 - 1932 - 1934 - 1943 - 1967 - 1973 - 1974 - 1980