1902 (VFA) - 1905 (VFA) - 1920 - 1921 - 1932 - 1934 - 1943 - 1967 - 1969 - 1974 - 1980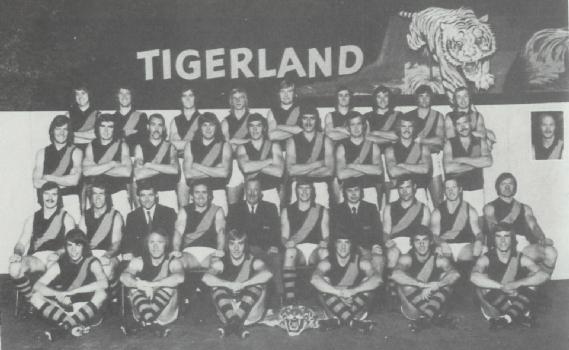 TIGER TOM'S GRAND DESIGN
Hafey Plots Flag Win Against Odds
The Age, Monday, October 1, 1973.

by Percy Beames
Take a couple of League discards, a nomad or two, throw in a couple of crocks and pull a player out of retirement ... and you end up with a premiership.
At least that's the recipe if you are Tom Hafey and your team is Richmond.
The worry, the constant hard work, the planning ... it all paid off for Hafey on Saturday when Richmond settled a year-old account by beating Carlton in the Grand Final.
And what a historic day it was for the Tigers, with all four of their teams winning premierships.
The Firsts, Reserves and Under 19s emulated Essendon's 1949 feat of three flags in one year.
And Richmond's Under 17 side, Essex Heights, completed the monopoly in the South-East Suburban League.
Premierships are hard enough to win when a settled team holds an edge in most positions.
They become a nightmare for a coach who has to improvise and who knows the crocks he has gambled on could so easily break down.
But no one let Hafey down on Saturday, certainly not the discards or nomads like Ian Stewart and Stephen Rae from St Kilda, Robert McGhie from Footscray, and Paul Sproule from Essendon.
Nor did captain Royce Hart and Francis Bourke, who on strict medical grounds were not even half fit to be playing in a Grand Final.
Such was their respect for Hafey and so much did they desire to be part of a 1973 Richmond premiership team, that they were able to shut their minds to their injuries.
Nor did Mike Green fail Hafey. After standing out of football last year, Green was dumped late this season and his form coming to the Grand Final had a lot of people worried.
Yet he was among Richmond's best players.
There were other factors, too, behind Richmond's success - a gruelling training programme for one.
Early Start
No team devoted more hours to training.
The Tigers "kicked-off" almost as soon as the 1972 Grand Final was over and from then on muscles, lungs, heart and everything else that goes with stamina were conditioned.
Except for Hart and Bourke, the Tigers were the fittest side to make the finals.
But fitness without shrewdness would not have landed this year's flag.
The shrewdness came from something that happened when the Tigers last played the Blues in the qualifying final.
The Tigers had lumbered badly because of a heavy, ill balanced side.
They rarely got the ball away from the centre until the last quarter when in desparation Sproule was converted to a ruck-rover.
Sproule picked up kicks and gave the Tigers much needed mobility. There and then the Richmond brains trust decided that mobility was the most likely key to the premiership.
Hafey and the selectors concentrated on planning ways to get the ball away from the centre diamond and away from the packs.
Kevin Bartlett and Sproule provided the Tigers with an ideal double for the job.
Sproule's use as a ruck-rover was tantamount to Richmond having two rovers at most centre bounces.
Centreman Stewart also fitted into the Richmond plan, and Kevin Sheedy was called on from defence to be part of a recast offensive operation.
Carlton will testify after Saturday that the Sheedy move paid dividends.
Sheedy kicked the first three goals to give Richmond the confidence to take out the premiership.
Carlton managed to stay with Richmond until 25 minutes into the second quarter. From then until the half-time siren the Tigers banged on 5.1 to take a 4.2 lead.
By three-quarter time, Carlton's plight had worsened. The Blues trailed by 6.2 and needed a miracle finish to win.
It wasn't a day for miracles, but Carlton supporters at least had the compensation of seeing the Blues cut Richmond's lead to three goals 15 minutes into the final quarter.
Positional changes helped, but the main reason for the Blues' comeback - apart from heart - was that Richmond's pace slackened.
For the first time in the game Carlton players were able to get the ball just a fraction ahead of their opponents.
The run lasted until Carlton coach John Nicholls missed a snap from the goal square. Had that kick gone straight - and it should have done - the Blues might have made things interesting.
But he missed, the Tigers got their second wind and it was just a matter of waiting for the siren to formally declare Richmond 1973 League premiers.
To say Carlton flopped is putting things mildly. It crashed, possibly denting beyond repair its right to be labelled the professionals.
The Blues just could not handle Richmond's pace and handball, nor could they break clear of a tight, solid Richmond defence.
Excuses can be offered, like the loss of Barry Armstrong and Trevor Keogh, players with pace, quickness and the ability to pick up a swag of kicks.
Nor did it help when Nicholls suffered double vision after being downed by Laurie Fowler in the first quarter. Worse was to come when full-back Geoff Southby was pole-axed in the second quarter and could not return after half-time because of concussion.
Carlton can also blame tactics that misfired.
The placing of John O'Connell in the centre on Stewart was defensive thinking, and why was Alex Jesaulenko allowed to remain almost a statue on a half-forward flank for most of the first half?
It wasn't as though Craig Davis had caused Richmond the slightest concern in front of goals.
Perhaps everything added up to just a bad day for the Blues.
But they could still face problems next year replacing a few old legs and reminding Brent Crosswell it's about time he stopped acting like a spoiled schoolboy.
| | | |
| --- | --- | --- |
| | &nbsp &nbsp &nbsp | |
The Day Tom Lost His Roar
by Ron Carter
Richmond's 1972 Grand Final debacle left coach Tom Hafey speechless ...
Yesterday, after the Tigers had avenged the loss by taking this year's flag from Carlton, Hafey was again speechless - but for another reason.
He had lost his voice.
He awakened yesterday to a ringing telephone, but found he was unable to speak.
Fortunately, there was nothing wrong with him on Saturday when he "fired" his players and kept his runner Barry Stanton busy with telephone messages from the coaches box.
And he was alright on Saturday night, too, when he joined in the fun and celebrations at the Tigers' premiership dinner-dance at the Olympia Room, Olympic Park.
Hafey was able to make himself heard above the revelry of the 300 who packed into the party.
"It's a great win," he said. "We're not much at losing but it's great to win.
"A great year, it was like a dream come true ... 1973 the year of the Tigers.
"Don't forget boys, training tomorrow at 8.30," He had to be joking.
It was a much more subdued Hafey at yesterday's club barbecue.
Hafey will always talk football but yesterday for a change, he was a listener.
Provided he regains his voice, the Tigers should be hearing plenty from Hafey on Tuesday night as they prepare for next weekend's $10,000 Champions of Australia series in Adelaide.
Saturday night's party at Olympic Park got a little out of hand ... there was so much noise that even captain Royce Hart wasn't able to give a speech.
But it wasn't quite as bad as the 1967 win, and this time property steward Charlie Callander kept a much tighter hold on the premiership cup.
After the 1967 Grand Final - the Tigers' first flag in more than 20 years - the cup took such a beating it had to be returned to the makers to have the dents knocked out.
One of the big talking points among the Tigers on Saturday night was, "What guernsey will we wear in Adelaide next Saturday?"
Glenelg, the SA Tigers, won the premiership on Saturday, and wear the same guernsey as Richmond.
There is talk that Richmond may wear Victorian jumpers.
| | | |
| --- | --- | --- |
| | &nbsp &nbsp &nbsp | |
DESPERATION WON IT, SAYS HAFEY
"We were fittest team"
Richmond won the Grand Final because "we were desperate to play tough football for the whole game", coach Tom Hafey said on Saturday.
Hafey said "We hoped to play on from last week's second half against Collingwood, and we did.
"Jones had been the player who got Carlton going and Roberts and Green did a mammoth job for us in subduing him, enabling our smaller players to take over.
"Besides, we were the fittest team in the competition."
Richmond captain Royce Hart said: "The win shows what dedication can do. We didn't give up the ghost last year after the shock loss to Carlton. We made up for it this year.
"The whole thing was a credit to Tom Hafey and the way he got us to top fitness.
Flags aplenty to fly in Tigerland
GRAND (FINAL) SLAM
Revenge is sweet
From Inside the Fence: Francis Bourke
They tell me that Tom Hafey is disappointed that the SSB Little League Tigers and the Richmond Tramways didn't win a premiership on Saturday.
Seriously, four flags in one day, it's still hard to believe. But you know, it just had to be a day for Tigers, young and old.
By the time we ran on to the MCG, the young tigers - the fourths, the Under 19s and the Reserves - had done their part and the club had three flags.
Imagine how we would have felt if we hadn't won the big one. We couldn't have looked them in the eye - it's not often a club gets the chance to set such a record.
How do we feel now? Bloody terrific, that's how. I never realised how sweet revenge could be, especially when it is for such a humiliating defeat as ours 12 months ago.
Twelve months is a long time to live with the memory of last year's Grand Final disaster. But now we have something much better to live with.
Four flags and the reputation of the strongest and most successful club in League history, that's what.
But let's settle down, organise the brains and have a look at the game itself yesterday.
I think Richmond got its message across very early in the day - the message that we meant business.
It was a great team effort by a team which was completely fanatical and desperate to wipe out a bad dream and set the record straight.
We were determined to show the world that Richmond, not Carlton, was the best club in the League.
It just gives you some idea what dedication can do. And there was dedication on every line and in every position.
All experts for instance predicted that Peter Jones would wipe the ground with our rucks. Take a bow Whale Roberts and Michael Green. You showed your critics.
Poor old Whalo has been maligned throughout the season but on Saturday against Jones and David MacKay he showed just how great his heart is. And it wasn't just in the hit-outs that he did so well but everywhere.
And don't forget that he did all this in conditions which should have suited him - the biggest man on the field - less than anybody else.
Michael Green, too, was superb in the ruck and with his marking and kicking all over the ground.
I'm sure I'm not taking anything from the little men when I say that a lot of their work was made easier by our two big fellows.
Mind you, weren't the little blokes superb, too? Kevin Bartlett is incredible: fast, elusive, indestructible (and he did cop a few). What can you say about him that hasn't been said already at least a thousand times.
Paul Sproule was another - a fine performance indeed.
And Kevin Sheedy. Now there's a man with guts. He was magnificient. He really set us on the road to victory in the first quarter with creative handball, sheperding, plain hard, slogging work and, of course, those invaluable three goals.
And when the going got tough there was Kevin stirring up and doing a little stirring of a different kind in other quarters.
And what has happened to that so called loose defence they said would always be a big trouble for Richmond? It was superb against a really tough forward line.
Dick Clay, Laurie Fowler, Rex Hunt, Robert McGhie and Mervyn Keane - what a lion-hearted effort from these Tigers.
They were under extreme pressure all day, especially in the last quarter when the Blues appeared as if they would get a run on.
I'm not saying that we were really worried in that last quarter, but they did give us (me at least) a bit of a fright. You never know what can happen when a team gets such a run.
But it was good to know that out last line of defence would stand firm. And stand firm it did.
The Blues battled their hearts out all day and despite the hiding they copped through injuries they still managed to stage that last-quarter fight-back.
It was a credit to their fighting qualities. Blokes like Robert Walls, Gary Crane, Vin Waite, David McKay - and Neil Chandler and Brian Quirk when they came on - never stopped trying.
But they just happened to be playing a side that was more determined and fanatical despite its own injury problems. (Just look at how courageously Ian Stewart battled on, and on one leg, too.)
1973 GRAND FINAL SCORES AND STATISTICS
Attendance: 116,956
Umpire: I. Robinson
1973 Richmond Premiership Side

       B:  L. Fowler           R. Clay               R. Hunt
       HB: F. Bourke           R. McGhie             M. Keane
       C:  W. Walsh            I. Stewart            B. Wood
       HF: S. Rae              R. Hart               K. Sheedy 
       F:  N. Carter           N. Balme              M. Green 
       R:  B. Roberts          P. Sproule            K. Bartlett 
       I:  K. Morris           C. McKellar
       
Quarter Scores
| | | | | |
| --- | --- | --- | --- | --- |
| Richmond | 3.5 | 11.8 | 15.11 | 16.20-116 |
| Carlton | 2.2 | 7.6 | 9.9 | 12.14-86 |
Goals:
Richmond:- Stewart 3, Hart 3, Sheedy 3, Balme 2, Walsh, Roberts, Carter, Bartlett, Green.
Carlton:- Walls 2, Hall 2, Crane 2, Dickson 2, Mackay 2, Nicholls, Chandler.
Best:
Richmond:- Bartlett, Sheedy, Stewart, Hart, Sproule, Walsh, Clay, Green.
Carlton:- Crane, Walls, Mackay, Hall, Pinnell, Jesaulenko, Byrne.
Replacements:
Richmond:- Carter by Morris in final quarter; Balme by McKellar in final quarter.
Carlton:- Southby, concussion, by Chandler at half-time; Catoggio by Quirk in third quarter.
Stats
| | K | I | C | K | S | HB | FF | FA | M |
| --- | --- | --- | --- | --- | --- | --- | --- | --- | --- |
| | 1 | 2 | 3 | 4 | T | | | | |
| Hunt | 2 | 1 | 2 | 2 | 7 | - | 3 | 1 | 2 |
| Clay | 4 | 1 | 1 | 3 | 9 | 1 | 4 | 3 | 4 |
| Fowler | 1 | 1 | 3 | 1 | 6 | - | 2 | 1 | 4 |
| Bourke | 1 | 5 | 5 | 2 | 13 | 3 | 3 | - | 1 |
| McGhie | 1 | 2 | 3 | 1 | 7 | 3 | 1 | 2 | 6 |
| Keane | 8 | - | 2 | - | 10 | 4 | 2 | 1 | 1 |
| Walsh | 2 | 3 | 6 | 6 | 17 | 2 | 3 | 3 | 3 |
| Stewart | 5 | 5 | 2 | 4 | 16 | 2 | 2 | - | 5 |
| Wood | 3 | 4 | 3 | 3 | 13 | 2 | 1 | 2 | 3 |
| Rae | 2 | 4 | 2 | 2 | 10 | 9 | 3 | 3 | 4 |
| Hart | 3 | 4 | 5 | 4 | 16 | 3 | 3 | 3 | 7 |
| Sheedy | 4 | 4 | 5 | 3 | 16 | 7 | 4 | 4 | 5 |
| Carter | 3 | 5 | 3 | - | 11 | 2 | 1 | 1 | 2 |
| Balme | 1 | 2 | 2 | 3 | 8 | 5 | 1 | 2 | 4 |
| Green | 3 | 4 | 1 | 5 | 13 | 4 | 2 | 1 | 8 |
| Roberts | 1 | 4 | 3 | - | 8 | 6 | 2 | - | 4 |
| Sproule | 6 | 3 | 4 | 2 | 15 | 6 | 3 | - | 2 |
| Bartlett | 4 | 5 | 10 | 8 | 27 | - | 5 | 3 | 1 |
| Morris | - | - | - | 5 | 5 | 1 | - | - | 1 |
| McKellar | - | - | - | - | - | - | - | - | - |
| Richmond | 54 | 57 | 62 | 54 | 227 | 60 | 43 | 30 | 64 |
| Carlton | 51 | 49 | 54 | 54 | 210 | 37 | 30 | 43 | 57 |
| | | |
| --- | --- | --- |
| | &nbsp &nbsp &nbsp | |
< RETURN TO TOP >
1902 (VFA) - 1905 (VFA) - 1920 - 1921 - 1932 - 1934 - 1943 - 1967 - 1969 - 1974 - 1980